RealEscort V10, is online, we now have "No Sex" Categories.
("No Sex" Advertisers will be moved to this category in the next few days)

We made some changes to the site, to better accommodate our non sex advertisers that advertise on our site. They mostly where in clinics category, but that's not the right place. Many of them are not clinics and they don't offer Sex, so they cannot be together with escort ads/clinics that provide sexual services.

So for this reason we have change the system a bit..


Better real escort Version 10…

1. We will let everyone put them self in any category they need to be. Meaning, if you are a GIRL, you belong to girls category, no matter what services you provide….

2. If you are an advertiser, that provide NON SEX services, your ad will be marked with a "NO SEX" logo.



And you will belong to the new category called "NO Sex", its shown in the website menu, if any "No Sex" ads are online. We made it like this to make it easy for costumers to see all "No Sex" ads, without having to search for them, and to not have "No Sex" ads mixed in with the ones that do provide sex services.

Your ad cloud look like this....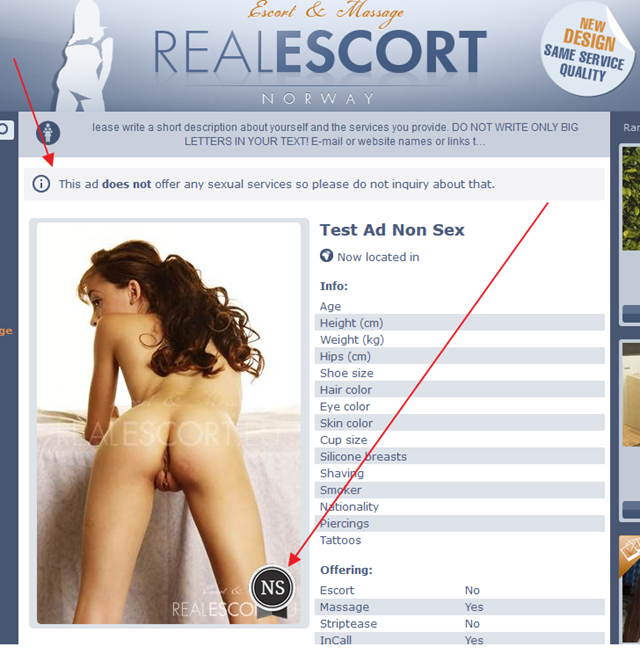 3. If you are a Clinic or Club, you will be listed in only 1 city, the city you select in you address, this means you do NOT have travel plan.
If a person search for clinics in (Eks: Norway) "Akershus", and your clinic is located in town "Asker" website will show your clinic in the search results, as "Asker" is located in the region Akershus.
If a person search for Clinic in "Asker" city, and select he wants to see only results from that city, site will show him only results from that city.
(this new feature you find in advanced search, bottom called, Location and Date option called:
[ ]-Show only search results for the exact city i select.)

4. Clubs, will be removed from SE, FI, DK, EU, but stay for others like ES, PL and so on.
Clubs will have same function and layout as Clinics in regards to how they work, = listen in the city you Club address is in.

5. Agencies, we be removed from SE, FI, DK, EU, but stay for others like ES, PL and so on.
Agencies, will be changed, and have full travel plan, as they can service large areas, or even a whole country, if they manage. Independent escorts could be places in every city in a country.

6. More services has been opened for advertisers to select, no matter what type of business they run.
(if your service is missing, write to support, and we will see if we can add it)

We are working on a service filter, so advertiser can quickly find the service they are looking for and select it. (not finished. Work in progress)


We hope everyone is happy with this solution.. :)

Thanks
Team RealEscort


Are you listed in the wrong category? Or a "non sex" advertiser listed in "sex offering" category, then write to support so we can move it to the right category.)